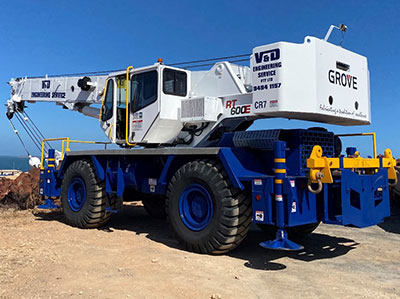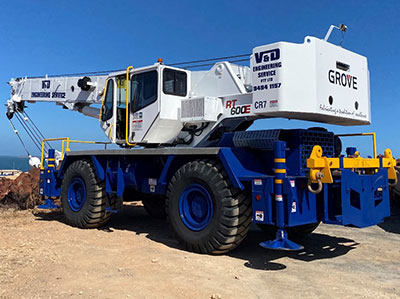 All Terrain 45 Tonne Crane gets a Minprovise Makeover
An all-terrain crane is designed for maximum mobility and power lifting, with a boom length that can extend to over 30m. No matter how strong and robust, these mighty machines lose their good looks with age and body damage working in a range of challenging conditions that include extremely hot, dry and gritty conditions. Minprovise Corrosion Control had the opportunity to perform, what we might call "an extreme makeover" on one such machine.
Faded, scratched, scraped and rusty this fully articulated four-wheel drive had seen better days. Minprovise Corrosion Control had it stripped down, washed down and spent 9 days performing specialist processes that included abrasive blasting the surfaces to remove rust and loose paint, using compressed air to remove all spent abrasive, followed by power sanding all left painted areas to leave a smooth skin. Treatments of 100um DFT 2 pack epoxy mastic Primer were done to protect any exposed metal against atmospheric corrosivity otherwise known as "rust". Once the Primer was dry, more sanding and rubbing back before applying two coats of 75um DFT 2 pack Polyurethane, giving the now handsome beast an external coating system as strong as concrete and highly glossy. Finishing touches completed, removed items replaced and a final clean before Minprovise Corrosion Control proudly returned the now magnificent RT600E Mobile Crane back to very happy owners.